These sound-studies highlights of the week originally appeared in the April 25, 2023, issue of the free Disquiet.com weekly email newsletter, This Week in Sound.
▰ STRING THEORY: HARP stands for Heliophysics Audified: Resonances in Plasmas, a program that combines data from a quintet of NASA satellites. An article in the Washington Post announces that it "is now open to citizen scientists." HARP is like neighborhood watch — but with your ears … in space. Writes Erin Blakemore: "The hope is that volunteers can help trawl through the massive amount of data while sussing out sounds that reveal more about the vibrations. Researchers will use their increased understanding of those interactions to help humans better prepare for future space weather events."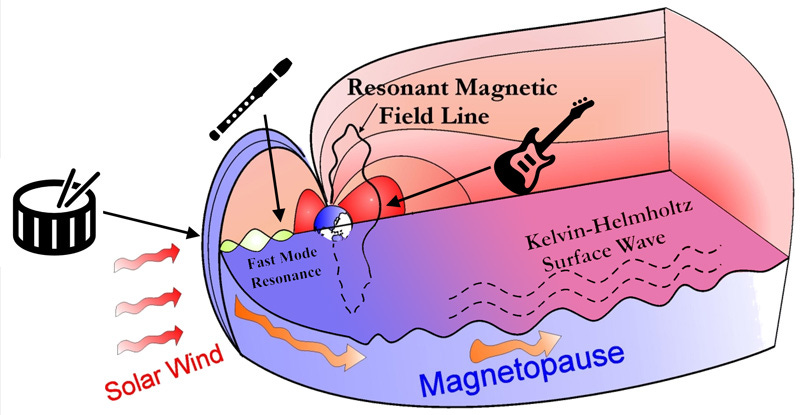 Learn more at listen.spacescience.org, where this accompanying image (by QiuGang Zong of the University of Massachusetts Lowell) depicts how "types of space waves are analogous to vibrations in air made by musical instruments." (Thanks, Mike Rhode!)
▰ FIELD REPORT: I recently ordered an AudioMoth, an open-source device intended for use when making field recordings of sound in nature. It's a great tool for acoustic ecology. (As The Economist has explained, "The device takes its name from the fact that moths can hear sounds across a wide frequency spectrum.") I love that the mobile app for the AudioMoth does exactly one thing: it emits a chime that can set the device's internal clock.
▰ BRAND SLAM: WPP, an advertising conglomerate, has acquired amp (the name is all lowercase), a sonic branding company with such clients as Cadillac, Adobe, Dove, and Lay's. Michele Arnese founded amp in 2009. I think the big question now is what this means for other small agencies that focus on sound branding: will they continue as standalone entities, or will we see an uptick of such acquisitions in 2023 and 2024? For my part, I think sound branding as a standalone operation isn't as effective as within a larger organization, where it can be part of a broader, coherent strategy — though as in any field, there will always be small teams that push norms in a way larger organizations struggle to do.
▰ PHONE HOME: The CBC reports on a payphone in the middle of a forest. It is intended for "visitors dealing with the loss of a loved one to pick up the receiver and speak to those they miss." (My dad died last June just shy of his 87th birthday, and I have an urge to use a wind phone as I type this.) Apparently the concept of the "wind phone" originated in 2010 thanks to Itaru Sasaki, a Japanese garden designer. You can find a wind phone near you at mywindphone.com. The nearest one to me (I live in San Francisco) is across the bay in Oakland on 5th Street below where Interstate 880 and Interstate 980 connect. According to that website, it was created by Jordan Stern in the memory of the three dozen people who died in the 2016 Ghost Ship Fire. Here's a partial map of wind phone locations around the world. (Via Christof Migone)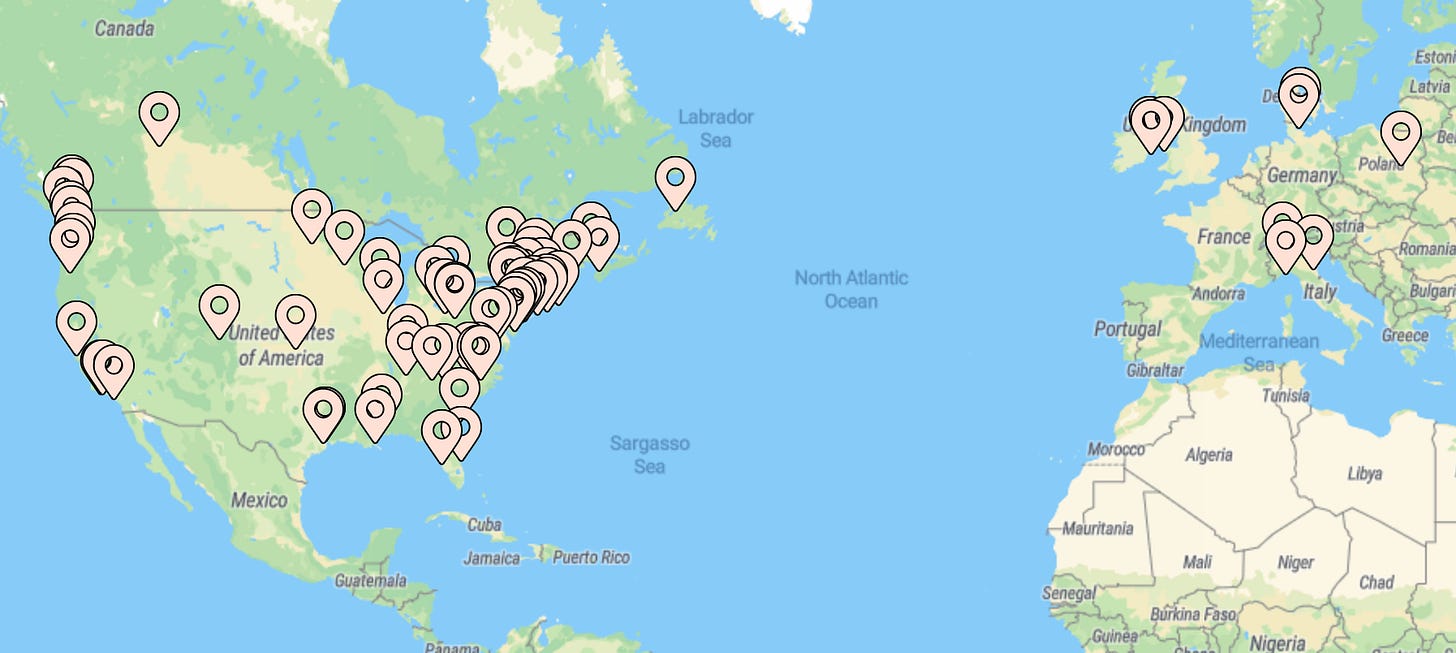 ▰ TRACK TRACKER: If film music is your thing, then you are probably already (or should be) checking out soundtrack.net's regularly updated news, such as that Kevin Kiner, known for his work on some great Star Wars animated series (most recently The Bad Batch) is scoring the forthcoming live-action Ahsoka (based on a character who originated in the animated series; now starring actual human Rosario Dawson), and that Mica Levi has a new assignment (The Zone of Interest, based on a Martin Amis novel from 2014 and from the director of Under the Skin, which Levi also memorably scored). Related topic: still no word on an album release for Siddhartha Khosla's exceptional score for the TV series Rabbit Hole.
QUICK NOTES: Wind Bag: A scientist explored an idiomatic expression and learned it's mistaken: "It isn't harder to shout into the wind; it's just harder to hear yourself." (Thanks, Glenn Sogge!) ▰ Orchestral Maneuvers: "The Los Angeles Metro is using classical music on its light rail system to deter homeless people from congregating and sleeping in a downtown station." (Thanks. Rich Pettus!) ▰ Bird Brain: The podcast from Emergence Magazine recently had an episode titled "The Nightingale's Song," featuring "acclaimed folk singer, conservationist, and song collector Sam Lee, who steps into the forest each spring to sing with these beloved birds." ▰ Channel Surfing: What appears to have been an intercepted comment on a taxi radio "has become a sensation in Argentina after the driver's taxi radio interfered with the signal from the International Space Station and popped up live during NASA's live broadcast of a spacewalk." ▰ App Alert:"Voicemod, the popular voice changer and soundboard, has just landed on macOS, allowing Mac users to transform their voices and trigger sound effects in real time." ▰ Hearing Aid: A new tool in speech-to-text recognition is modeled on the human ear. ▰ Speak AI: Speech recognition software is increasingly part of the medical world, and a recent study, using mock patient encounters, explores its effectiveness in history-taking. ▰ Planet Rock: Jenna Jones and Joseph Joyce, for Ableton, summarize the benefits of data sonification as a tool for climate action. ▰ When a Problem Comes Along: A podcast called the Wind has a new episode about the politics of the whip: "How a small sonic boom came to represent homelessness in Reno, and how the city responded to unhoused people taking up sonic real-estate." (Via Rob Walker's always excellent The Art of Noticing newsletter) ▰ Avian Squad: One of my favorite online nature features is the "Shriek of the Week" by Charlie Peverett of Birdsong Academy, who this week highlighted the nightingale, one of the "few birds to sing reliably in the depths of night and during the day."