These sound-studies highlights of the week originally appeared in the May 16, 2023, issue of the Disquiet.com weekly email newsletter, This Week in Sound.
QUANTUMANIA: "Near absolute zero, the weird rules of quantum mechanics start to apply to vibrations. If you think of a guitar string, you can pluck it to vibrate softly or loudly or at any volume in between. But in crystals cooled to this super-low temperature, the atoms can only vibrate at discrete, set intensities. It turns out that this is because when vibrations get this quiet, sound actually occurs in discrete units known as phonons. You can think of a phonon as a particle of sound, just as a photon is a particle of light. The minimum amount of vibration that any object can harbor is a single phonon." — Wired's Sophia Chen on what she (or at least the magazine's headline writer) describes as "the quietest sound in the universe." (Side note: Articles on quantum physics can be rated based on how often they employ the word "weird." This article got a 3.)
SKY HIGH: "[W]hen researchers launched solar-powered balloons up 70,000 feet, they detected a hidden acoustic world — including mysterious noises without a known origin." No story in the past couple months has caused more people to forward it to me more than this one. Reports Carolyn Y. Johnson in the Washington Post, "The noises are 'infrasound,' inaudible to the human ear — just as light in the infrared spectrum is invisible to the human eye. When recorded with specialized instruments and sped up a few thousand times, they sound like muffled, staticky whispers." (Thanks, Kristina Nguyen, who sent it to me first.)
TALK TALK: A 52-year-old with ALS "preserved his voice with a company called Voice Keeper, which is one of several companies using artificial intelligence to 'bank' people's voices while they are still able to speak and re-creates those voices for text-to-speech software. … Voice banking used to be expensive and time-consuming, but AI has made it more accessible to people with conditions that could impact their ability to speak, such as ALS, throat cancer, cerebral palsy and Parkinson's disease." (Thanks, Mike Rhode!)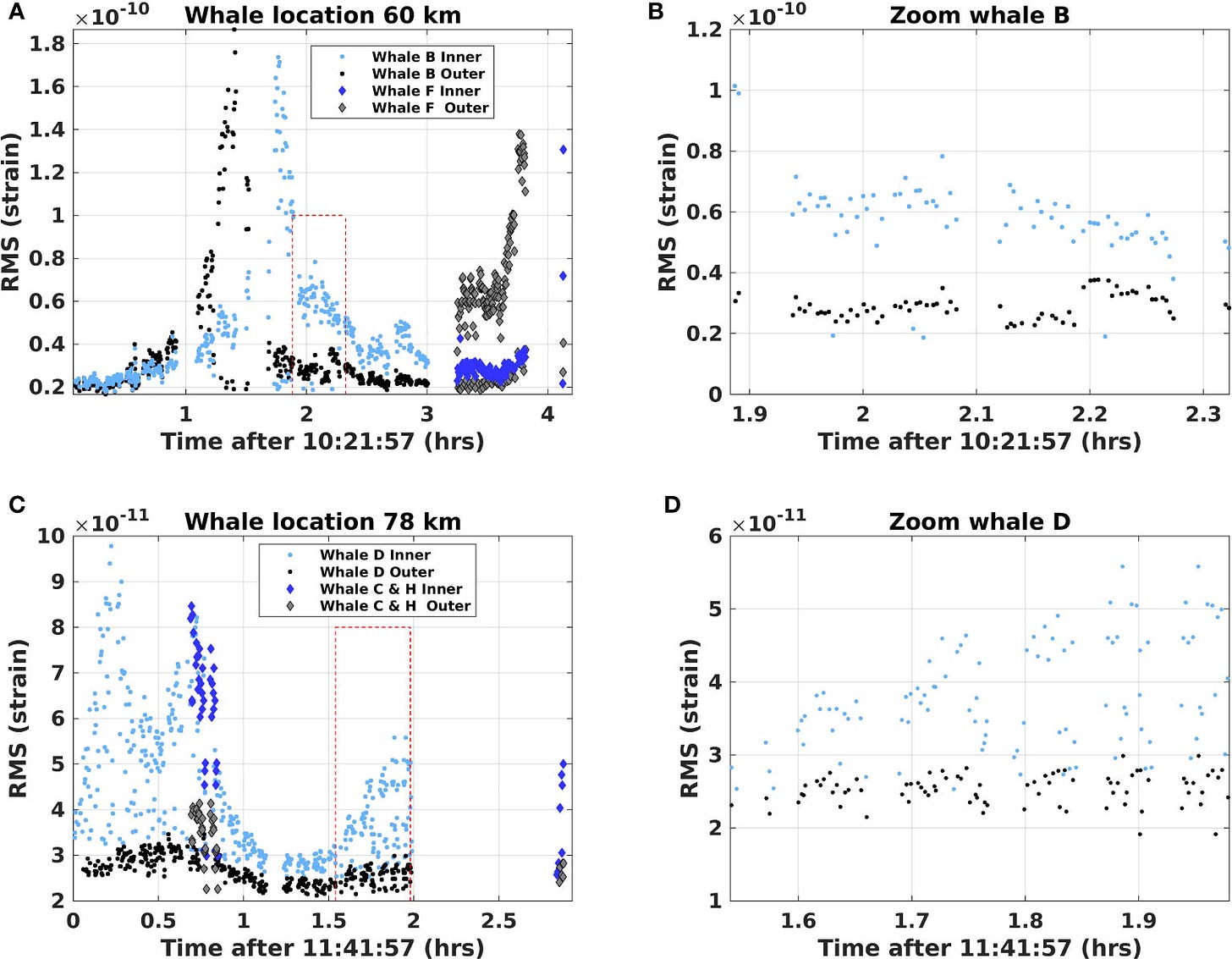 CABLE GUY: Researchers have sorted out how to use pre-existing, fully functioning, ocean-spanning fiber-optic cables as cetacean detection devices: "The system the researchers used for this work is called Distributed Acoustic Sensing, or DAS. DAS uses an instrument called an interrogator to send laser pulses into a fiber-optic system and records the returning light pulses, essentially turning the cables into a series of hydrophones." (Thanks, Glenn Sogge!)
HEAR HEAR: "A raft of new hearing aids have hit the market in recent years, offering greater appeal to a generation of young adults that some experts say is both developing hearing problems earlier in life and — perhaps paradoxically — becoming more comfortable with an expensive piece of technology pumping sound into their ears" — Neelam Bohra in the New York Times writes about changes in the hearing aid landscape.
EIGHTEEN WHEELS BAD: A report on the impact of "last-mile warehouse facilities" on residential areas: "A sound meter charts noises that are twice as loud as background levels every three minutes during daytime hours, and four times as loud every 30 minutes, on average." That data is from the Red Hook area of Brooklyn, where residents have teamed up with Consumer Reports to monitor the issue: "[M]embers of the community installed traffic, air-quality and sound sensors purchased by Consumer Reports, and are now gathering data throughout the neighborhood. Consumer Reports teamed up with the Guardian to analyze the first several months of data."
ON DASHER: April 27 was Morse Code Day, which I missed. It's Morse Code Day because April 27 is the birthday of the namesake Morse, Samuel Morse (1791-1872). Esteban Touma of National World makes a case for More's revival: "Like listening to vinyl records, communicating in Morse reignites a sense of romanticism." The main data point is a South Korean band, named TXT, using Morse Code to signal news. (Side note: A dorm named after Morse was adjacent to the dorm I lived in for two years during college, but I don't think I registered at the time that that Morse was that Morse. I'm due for a visit for my imminent college reunion, and I'll do a bit of sonic reconnaissance while I'm in town.) (Thanks, Daniele Fantini!)
QUICK NOTES: Let's Get Loud: Between 1946 and 2020, the relative volume of singers on recordings of pop music has declined (npr.org — thanks, Rich Pettus!). Perhaps we'll get to instrumental parity by 2050? I can dream. ▰ Mic Drop:Despite heated recent anxiety on social media about over-attentive microphone usage in WhatsApp, the issue may actually be "a [logging] flaw in Google's privacy dashboard software" (androidpolice.com). ▰ Music of the Spheres: I remain somewhat skeptical about "sonification" in its broader uses, wondering if much of the time it's just PR stunt noise, but NASA, one of the prime proponents, has shown a greater depth of engagement by teaming up with composer Henry Dehlinger for a performance by the National Philharmonic (dcist.com — thanks, Mike Rhode!) ▰ Bat Signals: I first mentioned this back in July 2021, when it was in the works, but the Blanton Museum of Art at The University of Texas, in Austin, now has the new Butler Sound Gallery, "one of the few spaces in the world dedicated solely to sound art." (Thanks, Bruce Levenstein!) ▰ Go Pro: The cover story of Wildlife Professional, for the May/June 2023 issue, explores "how human-generated noise is affecting a range of species, from prairie dogs to blue whales." ▰ Green Scene: Kudos to Cambridge, Massachusetts, sonification artist Skooby Laposky, who "is careful not to say that plants can 'sing.' 'The artistry,' Laposky explains, 'is connecting a certain kind of sound palette that represents the data accurately.'"